Prepare a piece of string or a thin strip of paper and a ruler.
Wrap the string around the finger where you want to wear the ring.
Mark the point where the string meets itself.
Unwind the string and measure its length in centimeters.
Compare the result with our size chart.
Repeat the measurement a few times for accuracy, every millimeter matters.
HOW TO CHECK RING SIZE?
Print the ring size measurements in PDF, making sure to maintain a 100% scale.
Place a ruler on the printed measurements. The scale is correct if the ruler aligns with the measurements.
Find your size by aligning the ring with the printed circles, ensuring that the black circumference matches the inside of the ring.
RULES FOR CHOOSING THE RIGHT SIZE

Each finger on your right and left hand has a different size. Before choosing a size, consider which finger you want to wear the ring on.
The ambient temperature affects the volume of your finger. Try to check the size when your hands are cold. For certainty, repeat the measurement at different times of the day.
The shape of your finger matters!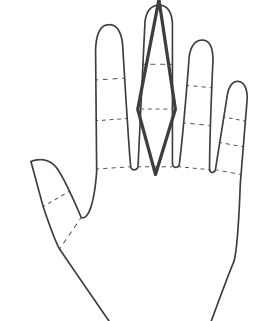 If your knuckle is wider than the rest of your finger, you should select a size that allows the ring to have a slight resistance when putting it on.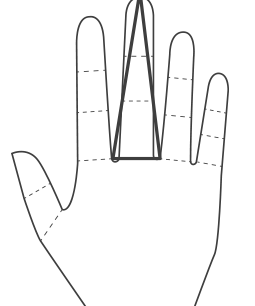 If the base of the finger is wider than the fingertip, choose a reference ring that fits comfortably on the base of the finger.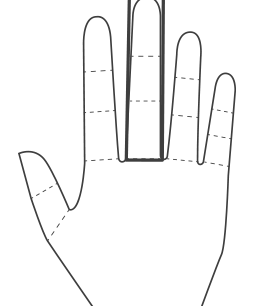 If the fingertip, knuckle, and base of the finger have the same width, you can refer to the ring you usually wear on that finger.
For wide signet or statement rings, we recommend adding one size to avoid discomfort while wearing them.
| Size | Circumference (mm) | Diameter (mm) |
| --- | --- | --- |
| 2 | 42 | 13 |
| 3 | 43 | 13,33 |
| 4 | 44 | 13,67 |
| 5 | 45 | 14 |
| 6 | 46 | 14,33 |
| 7 | 47 | 14,67 |
| 8 | 48 | 15 |
| 9 | 49 | 15,33 |
| 10 | 50 | 15,67 |
| 11 | 51 | 16 |
| 12 | 52 | 16,33 |
| 13 | 53 | 16,67 |
| Size | Circumference (mm) | Diameter (mm) |
| --- | --- | --- |
| 14 | 54 | 17 |
| 15 | 55 | 17,33 |
| 16 | 56 | 17,67 |
| 17 | 57 | 18 |
| 18 | 58 | 18,33 |
| 19 | 59 | 18,67 |
| 20 | 60 | 19 |
| 21 | 61 | 19,33 |
| 22 | 62 | 19,67 |
| 23 | 63 | 20 |
| 24 | 64 | 20,33 |
| 25 | 65 | 20,67 |